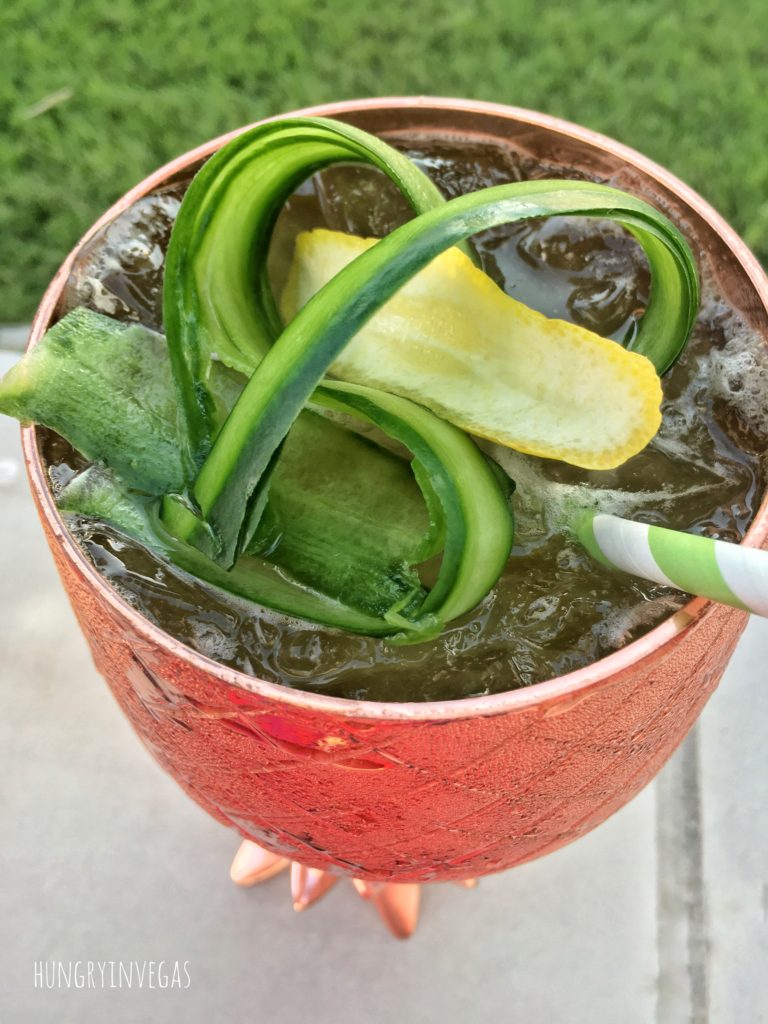 Bandito Latin Kitchen & Cantina
325 Hughes Center Dr Suite 100, Las Vegas, NV 89169
www.banditolv.com
I recently enjoyed a girls night out at Bandito, with two lovely foodie friends. Owner Kent Harman greeted us warmly, and made some recommendations for us. From the moment the first beautiful cocktail arrived at the table, I knew we were in for a great night.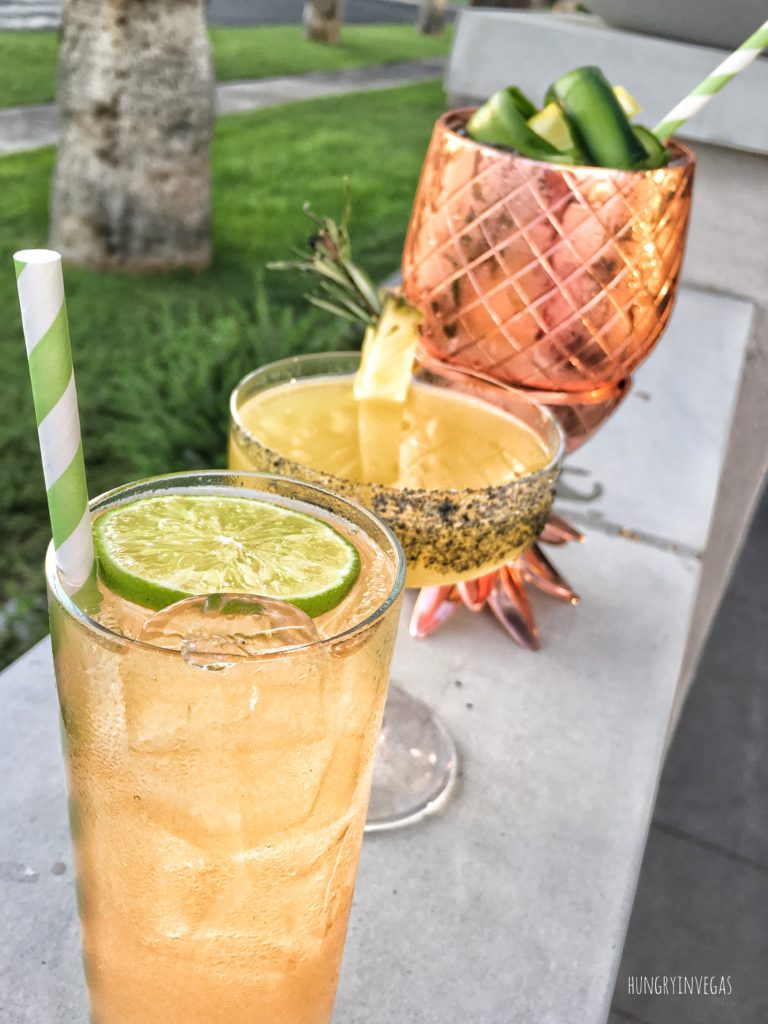 Out first was the Fashionista Ovo, served in a show-stopping brass pineapple. I'm going to describe many of Bandito's cocktails the same way–refreshing. Not only does this one look great on your Instagram, it tastes great also! Next to be dropped off was the La Paloma Blanca, a stiff mix of El Silencio Mezcal, Luxardo Maraschino Cherry, fresh pink grapefruit juice, and lime juice. If you enjoy mezcal, and palomas, this is a perfect drink for you.
Not to be outdone, the Smoking Bandito, made with Hornitos Black Barrel Añejo Tequila, fresh pineapple juice, charred pineapples, black salt, lime, and agave, is literally served smoking–a rosemary garnish set on fire when it arrives at your table. This was my favorite drink of the evening, a great mix of sweet and savory notes.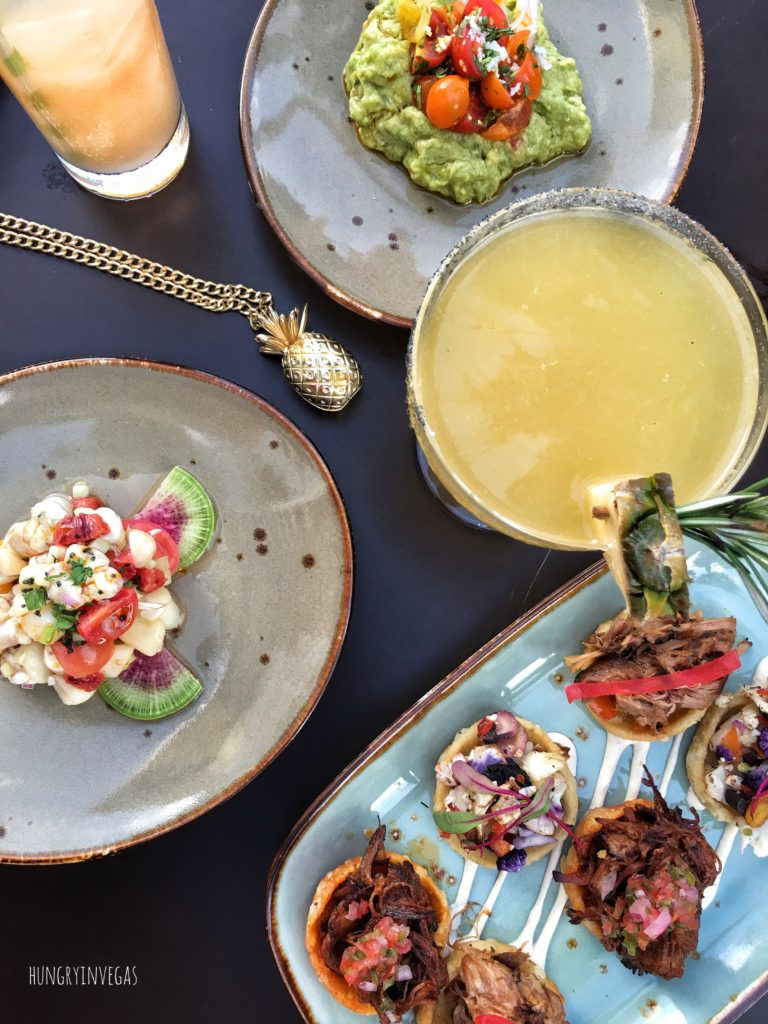 In addition to chips and salsa, we enjoyed a special sample-sized portion of Bandito's Seafood Ceviche, with (scallops, octopus, shrimp, whitefish, English cucumbers, red onion, radish, jalapeno and citrus), and the Guacamole (roasted serrano peppers, red onion, cilantro, cotija cheese, heirloom cherry tomatoes). We also tried the Sope Sampler, with barbacoa, roasted vegetable, and carnitas. The barbacoa really did it for me, I want to visit at lunch so I can try their barbacoa tacos option.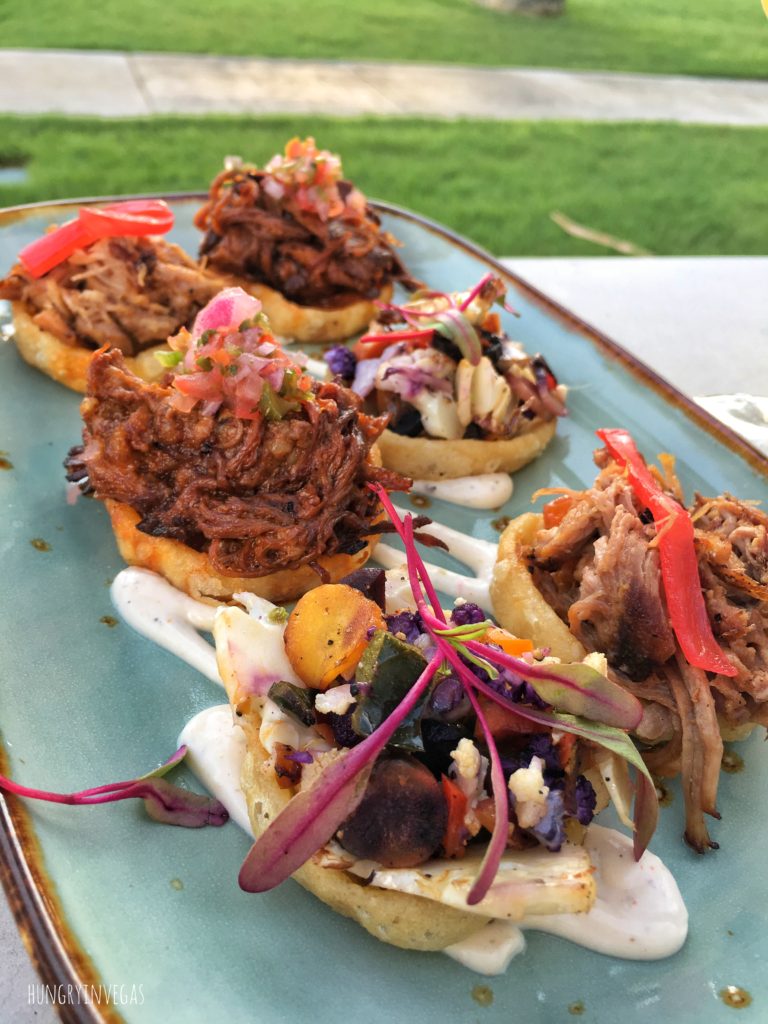 Another tray of cocktails appeared, and we were treated to a Mojito Cubano (Cruzan Rum infused with cigar notes, fresh lime, Chandon Sparkling Champagne), and a Cucumber Mojito with a touch of chile en polvo seasoning on top.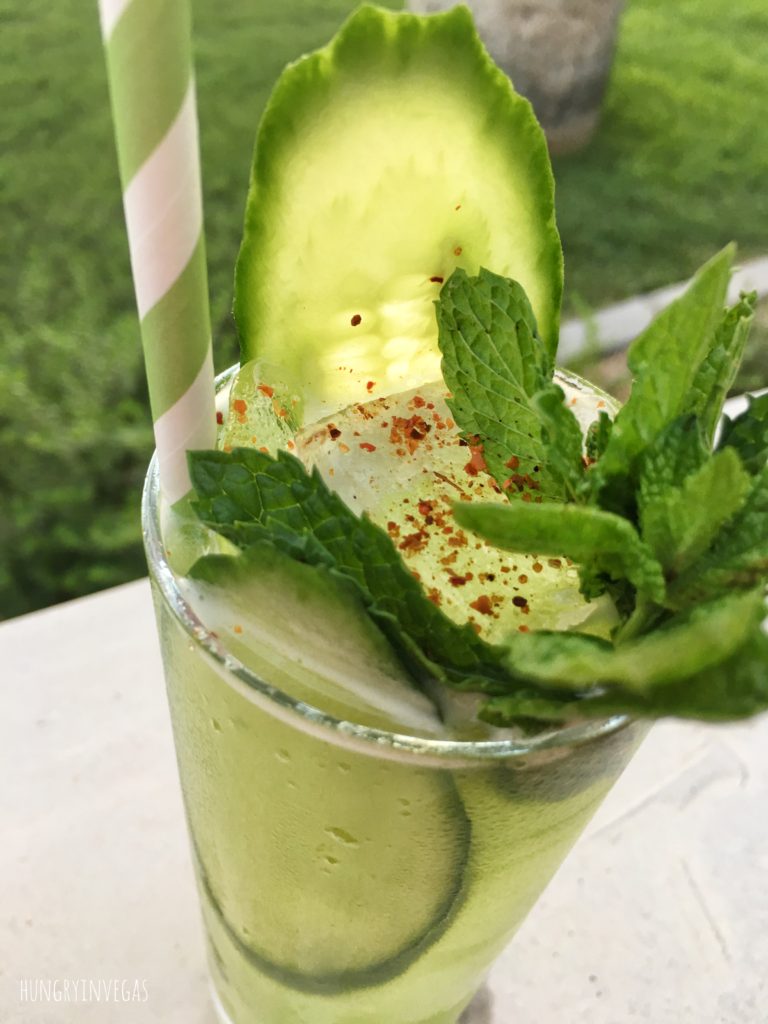 The last starter item we tried was the  Turkey Chorizo Albondigas, with creamed salsa verde, cotija, and popcorn shoots. I really enjoyed the creamed salsa verde, and appreciated the homemade turkey chorizo, as traditional chorizo can be a bit too oily for my tastes.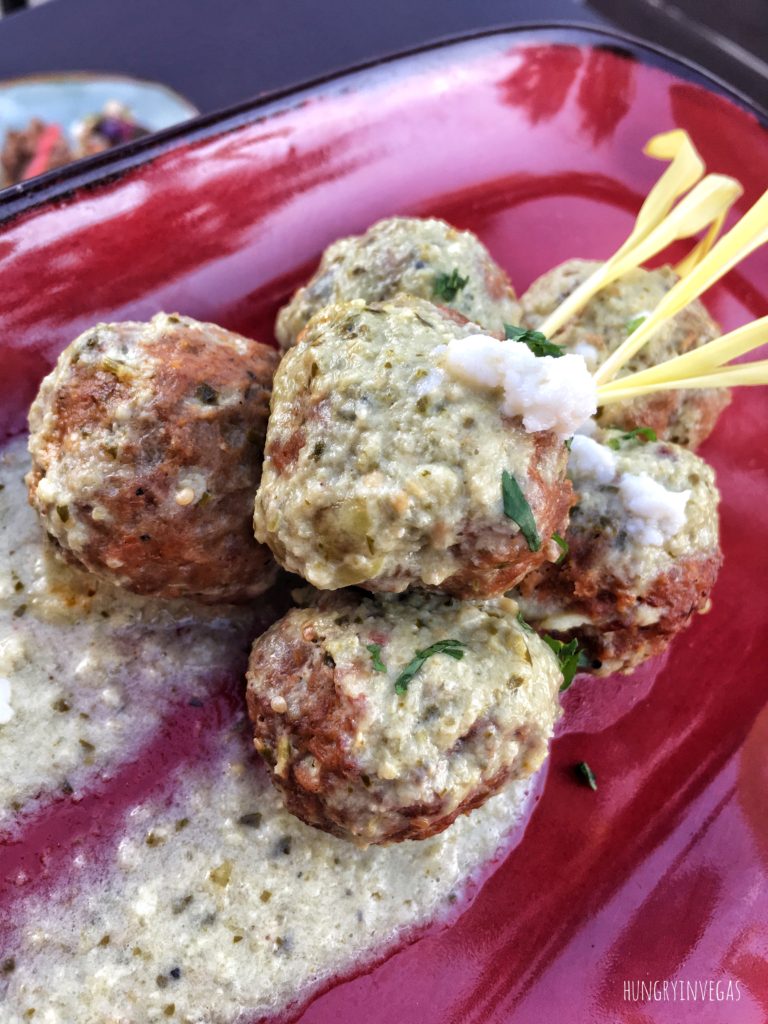 You could easily make a meal just from the starters section of the menu, especially during their daily Happy Hour, from 4:30-6:30 pm, when they offer half-off selected starters.
For anyone looking for something light, that is still packed with flavor, Bandito offers a variety of well-crafted salads, including the Chicharron & Arugula (Rainbow baby carrots, roasted corn, shallots, heirloom tomatoes, queso fresco, with an agave-guajillo vinaigrette.)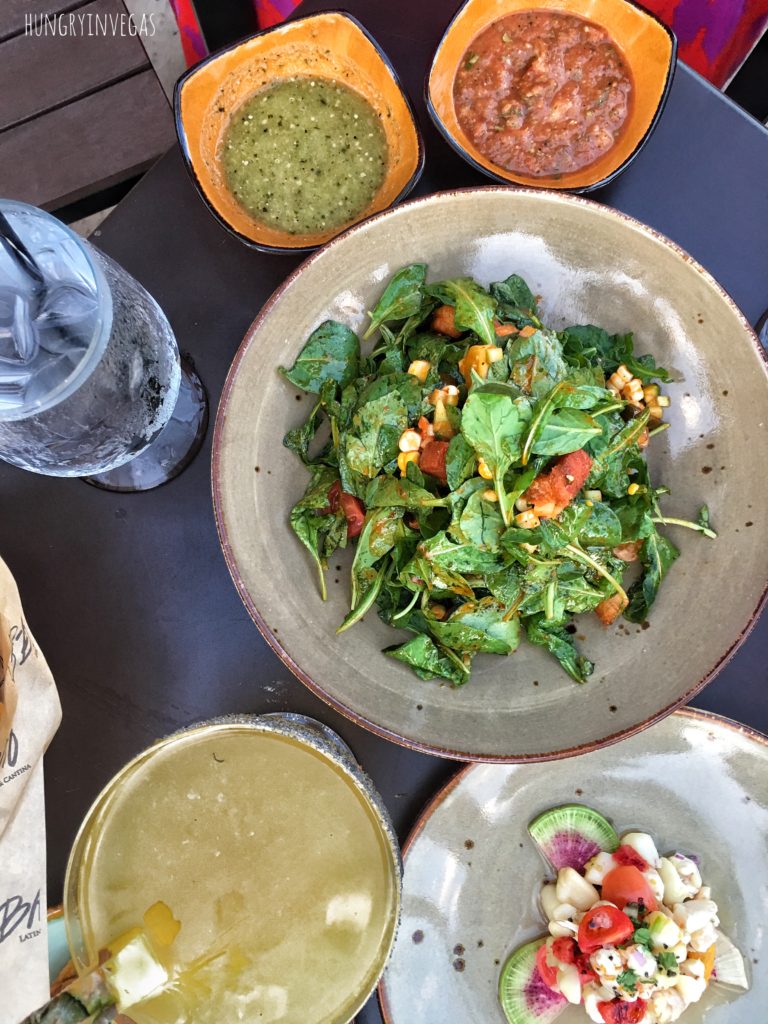 Bandito's side dishes are anything but boring. The Potatoes Al Pastor was vibrant, both to the eye and the palete. Tiny potatoes, in a robust sauce, with pineapple and garnished with micro-greens–as much as I love my friends, it was a struggle to share these!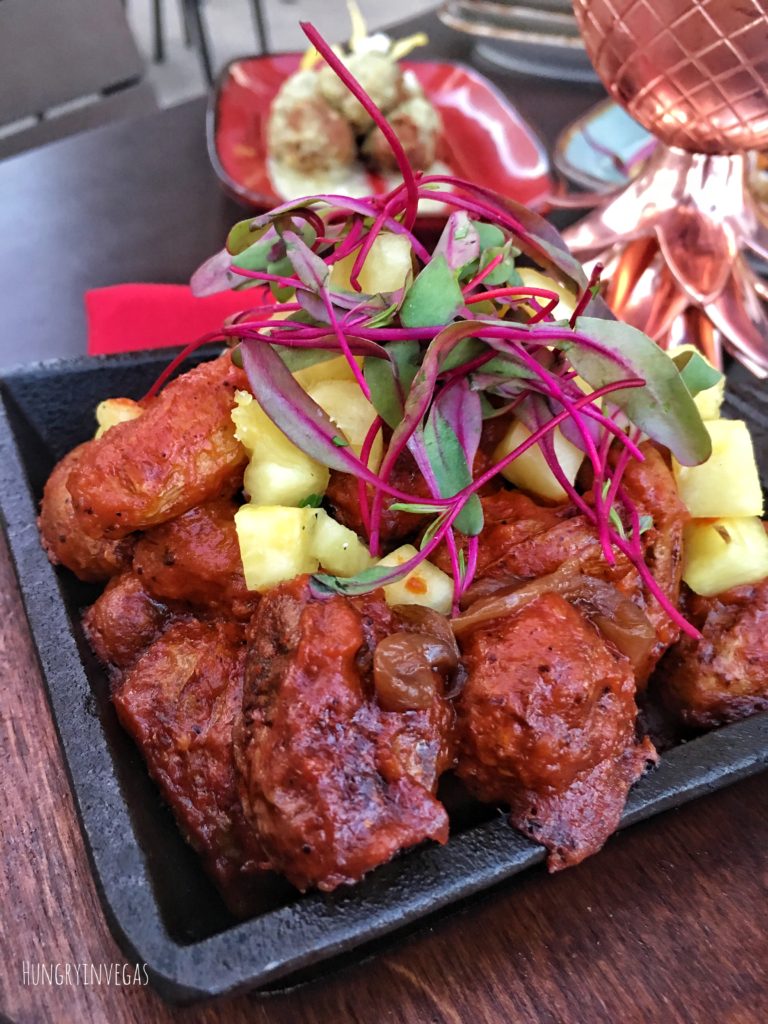 Ken selected a couple of entrees for us to try, including the Habanero Shrimp, which to my delight was served with a
jalapeño and cheese tamale, roasted vegetables, pickled onion. I am a huge tamale fan, even making my own at home. The shrimp were generously portioned, and perfectly cooked.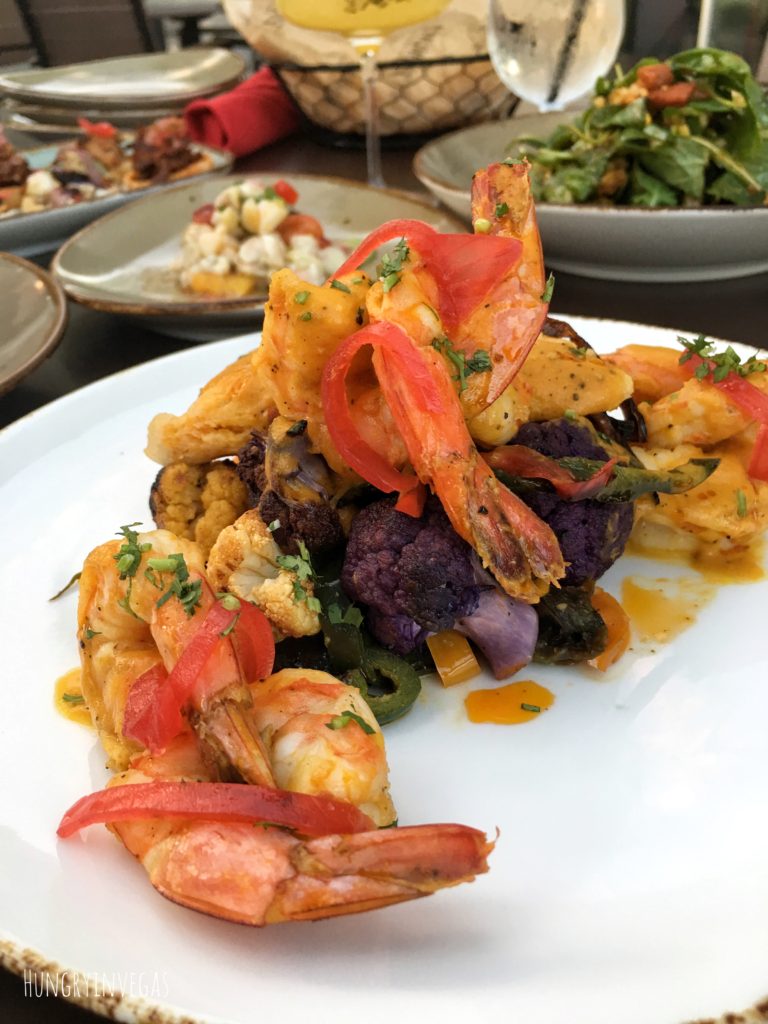 Last but certainly not least, we tried the Bandito-cheese mix Enchiladas. For this option, you select a sauce (they have several to tempt you with), along with a protein – Chicken Tinga, Carnitas, Al Pastor, or for an additional $4, Carne Asada or Sauteed Shrimp. We had Carne Asada, with the Rustic Pasilla and Pepita Mole Rojo Sauce, Charro Beans and Achiote Rice, and some of their delicious Off-the-cob Mexican Street corn (elotes). The Carne Asada was tender and well-seasoned without being overly salty, definitely on my repeat list!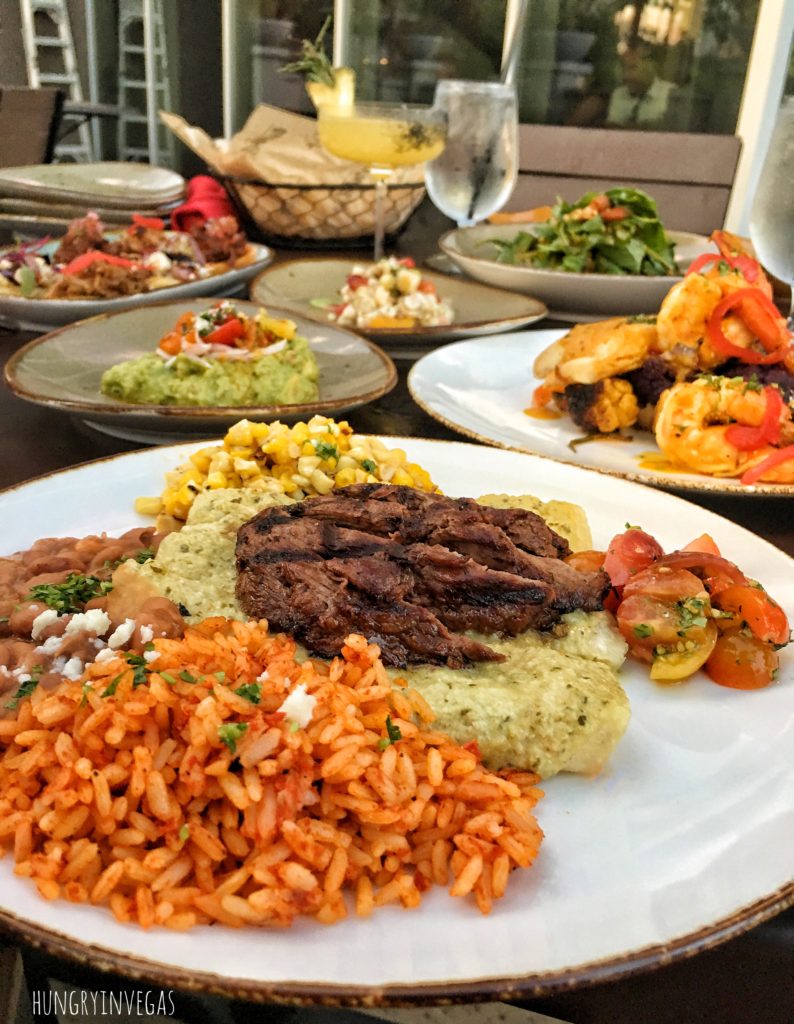 By this point the three of us were just too full to even consider dessert, even though the Margarita Cheesecake being offered at the time of my visit sounded amazing!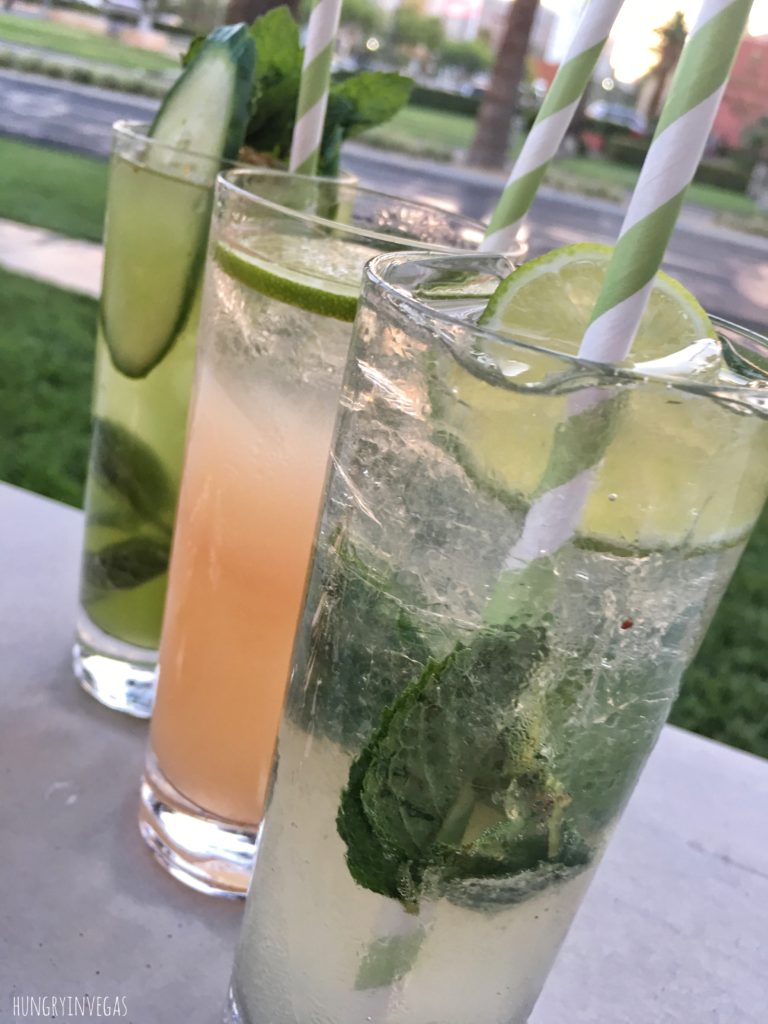 Bandito Latin Kitchen & Cantina offers locals the convenience of an off-strip location (with free parking, a true luxury these days!) and a higher-end dining experience without inflated pricing. And visitors to the area can still enjoy a great lunch, dinner, or just Happy Hour, minutes away from Las Vegas Boulevard. A gorgeous interior, with IG-worthy mural and open kitchen are great on hot days, and palm trees and strip-views await on the patio.
Thank you Kent, Ken, and the staff at Bandito Latin Kitchen & Cantina for a girls night out as fabulous as we are! Although our meals were generously provided, this is my honest review in my own words, and I plan to return very soon!
Sharing is caring! Pin for later, and if you dine with Bandito, please tag me in your photos on Instagram, @hungryinvegas!